Airtable vs. Quick Base
As a business or nonprofit organization, your company information such as client and customer data, sales data and invoices, and industry-specific data is essential to forecast budgets, profit, and ensure long-term viability.
The software tool you use to maintain your business data is critical to daily operations and company success. No matter the industry you're in, a proper information management system ensures better outcomes and helps you reach your goals. 
Most industries have one or more software platforms specific to your field for managing data. Unfortunately, they often lack customization options and are proprietary. They lock your data into their established formats and make it difficult, expensive, and even impossible to customize or expand to your business requirements. 
This is where an easy-to-use custom database solution can be a perfect fit. Airtable and Quick Base are two low-code application development platforms to help you run your business. Both are designed to store your essential data in a structured format helping you make informed decisions to guide your business. 
In this article, we cover the features of Airtable and Quick Base and the pros and cons or each so you can make the best decision for your business.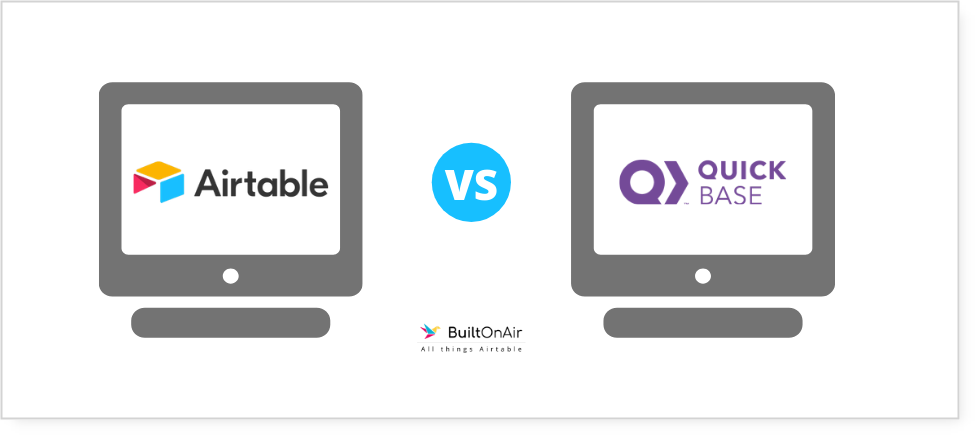 About Airtable and Quick Base 
Airtable and Quick Base are in a similar category of business-based customizable software to store your critical information such as construction projects, residential and commercial properties, or sales data. Both products can provide a centralized location to quickly reference documents and make decisions. 
Both are considered 'no-code/low-code' platforms allowing non-programmers to create a custom database structure with only a few clicks. Low-code platforms are projected to have a 40% market growth by 2022 (1).    
Airtable is an all-in-one online hybrid database and spreadsheet for managing business data and enhancing team and department collaboration. It was founded in 2012 and is used by over 80,000 companies. Their mission is to democratize software creation by enabling anyone to build the tools that meet their needs. 
Quick Base is an enterprise low-code development platform to create custom company applications. It was founded in 1999 by a software company and was purchased by Intuit the same year. It is now owned by two investment firms. Quick Base is used by more than 6,000 customers, including many Fortune 100 companies, and can be used in a variety of industries from field services to real estate property management. They want to help businesses accelerate the continuous innovation of unique processes by enabling citizen development at scale across one common platform.
Why Your Business Needs a Better Solution
As a company owner or manager, you oversee the achievements and health of your business. It's imperative to have a software platform that helps you analyze your company information customized to your specific needs. 
Airtable and Quick Base offer businesses a better solution to process vital company information. This is accomplished through better data visualization and an increased understanding of company data.
Why We Use Airtable
At BuiltOnAir, we are Airtable fanatics and use it to run our own businesses. Its customization features and flexibility make it a fantastic solution for companies in all different industries. 
With Airtable, you can store any type of information in its original format. With an easy-to-use interface, you can create your own custom app in a short amount of time. You don't have to know how to use databases or be a programmer to make Airtable work for your business.  
With Airtable, you can create your own custom layout using the simplicity of drag and drop. Each custom app in Airtable is called a Base. Airtable bases contain Tables and Fields. Fields include a variety of options such as Text, Numbers, Data Relationship Links, Barcodes, Users, Checkboxes, Formulas, and many more.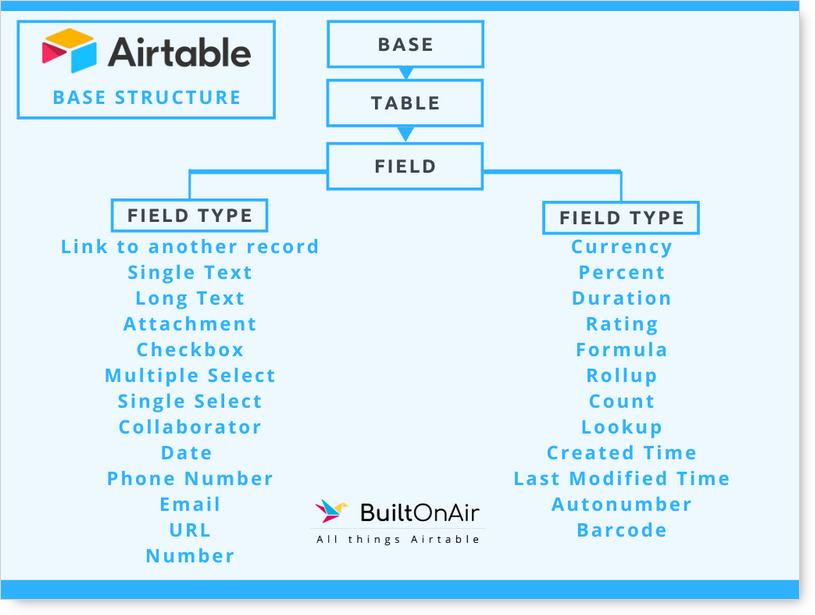 It also has multiple views such as Grid (spreadsheet-view), Calendar, Gallery, Kanban, and Form, enabling you to transform your data any way you like.
Airtable has special app fields that live on top of your Airtable bases called Blocks. Blocks expand your data even further to manage and maintain a dashboard of what's most important. Blocks include options such as Emailing and Texting directly from your base, Maps, Charts, Scripts (Custom Code), and several other helpful upgrades. Read all about Blocks on their site.
Airtable extends to almost any other software platform you use to run your company with On2Air: Actions. An advanced connector, On2Air: Actions, integrates your Airtable data with over 2,000 additional apps.
Create powerful business processes with almost 20 additional action options beyond the standard Airtable actions. 

On2Air: Actions is the solution you need to optimize your systems and enhance the information flow between Airtable and other apps.
To get started with Airtable, check out their Getting Started Guide. Then head over to their extensive collection of pre-made templates and view the amazing community-submitted templates.
Features of Each Platform
Here are the most common features of Airtable and Quick Base.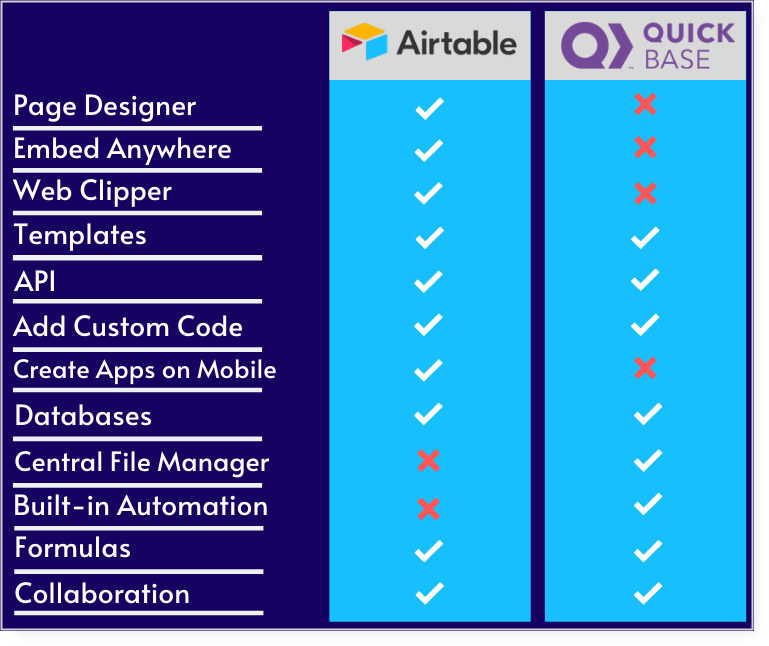 Pros and Cons of Each
Both apps can transform your business. Here are several pros and cons of each. 
Pros of Airtable
Airtable is a modern app-like platform allowing you to quickly organize and view your data structure your way. It has multiple field types and multiple views. 
Embed an Airtable database in any website

– Add to your website, change your data in Airtable, and it's automatically updated on your website.

 
Page designer to create any sort of template to export, print, or send

– Create invoices, business cards, or any other document in any size to send or print.

 
Web Clipper through Google Chrome extension

– Immediately add any relevant articles or information to your Airtable base when browsing the web with a couple of clicks.

 
Create custom apps on mobile

– Need to create a new app out in the field? Quickly generate a new app in minutes on your phone or tablet.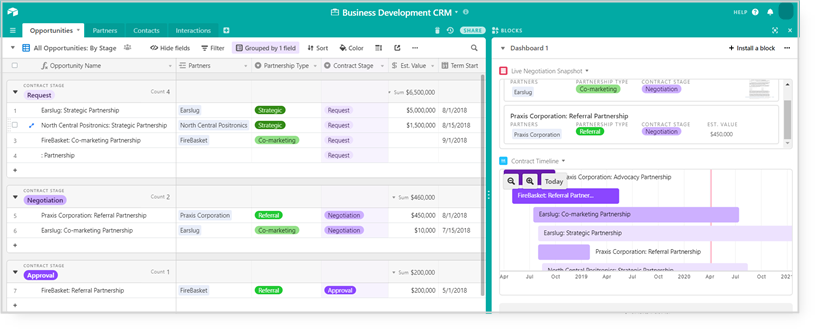 Airtable Base "Business Development"
Pros of Quick Base
Quick Base is a full-featured custom business application platform. Create company-wide applications for sales, human resources, project management, and more.  
Central file manager for your app

– View and edit files uploaded to the application from one location.

Formula variables to use in the entire app –

Create reusable values for formulas and other tasks for your entire application.



In-app automation – Create business automations when records are added, changed, or deleted to eliminate manual data processing and save time.

Cross-app linking

– Link multiple apps together to maintain an overview of all information.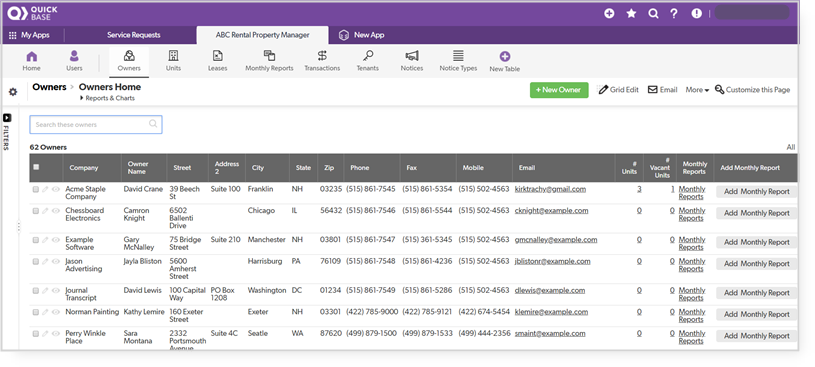 Quick Base "Rental Property Manager"
Even though both are solutions you can customize for your business, no software platform is perfect. Let's look at the cons of each app.
Cons of Airtable
No in-app automation

Lacks cross base linking

No task dependencies

Doesn't support clients who need HIPAA compliance
 Cons of Quick Base
Apps cannot be created from the mobile app

Many-to-many relationships are difficult to configure and cannot be edited in both tables

Higher priced than most small businesses need

More complex to set up
Platforms Available
Airtable is available as a web app so you can use it anywhere you have access to the internet. They also have a macOS app, Windows app, and it's available on both iPhones and Androids. An extra feature is their Google Chrome extension, which allows you to grab anything from the web and add it to Airtable.
 Quick Base is a web app so you can access it from most major browsers. It's also available on both iPhone and Android.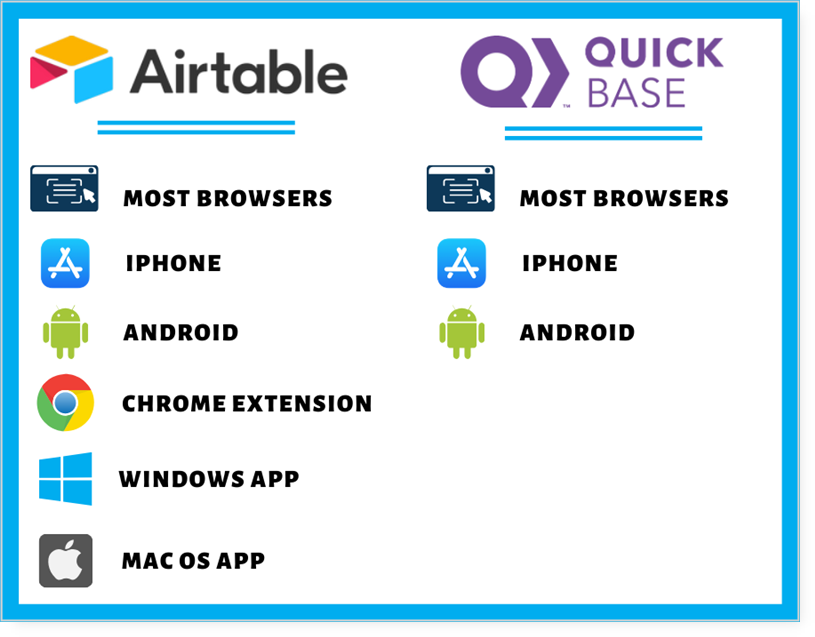 Ratings 
Let's rate the most common functionalities a business looks at when searching for a reliable software platform. These include ease of use, extensions and add-ons, price and value, and support.
Ease of Use
Airtable
Airtable's modern interface feels like many other apps you already use. It's easy to navigate and with a few simple instructions to start, you can get your entire company on board quickly.

Adding a template base in Airtable
Quick Base is more complicated to set up and is not as intuitive. It has many features but can be overwhelming if you've never used a low code platform before.
Extensions and Add-Ons
Both
Both platforms have a large ecosystem of available integrated apps and third-party apps to extend their functionality. 
Airtable integrates with Slack, Google Drive, Miro, JotForm, and many more. JotForm's integration with Airtable can be extended with additional features using On2Air: Forms. You can also extend your data with On2Air: Actions, an advanced connector to integrate your Airtable data with other software tools used in your business.
Quick Base has multiple native platform connectors such as Box, MailChimp, QuickBooks Online, Shopify, and more. They also have multiple third-party integrations.
Price and Value
Airtable
Airtable offers a free tier for individuals to use as long as they need with many great features included. Airtable has a $10 a month paid annually Plus plan best used when you need to store more data. 
They have a Pro plan with upgraded features for $20 a month paid annually or $24 paid month-to-month. They also have an Enterprise plan for larger organizations.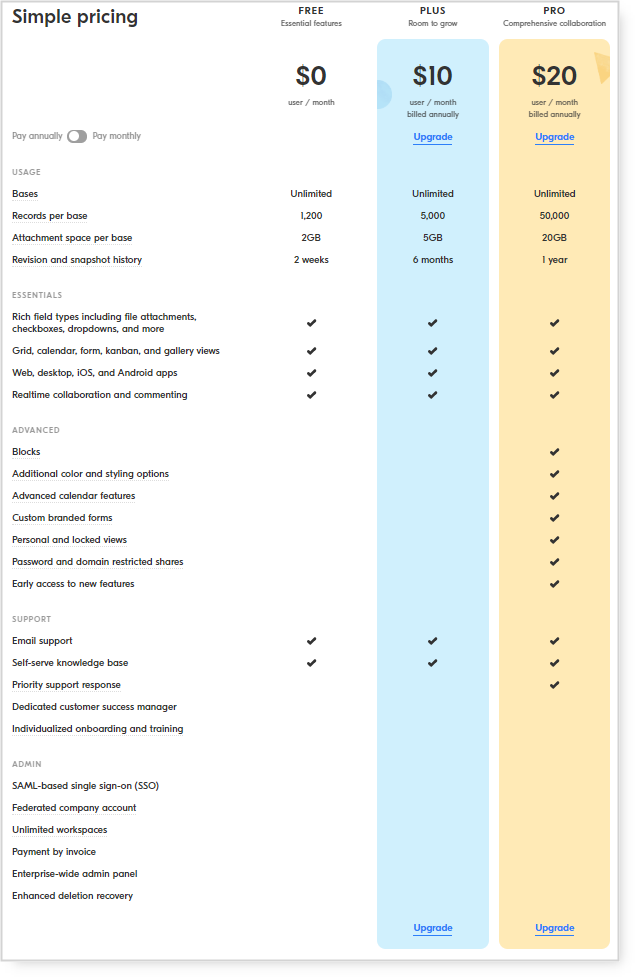 Quick Base has two primary plans and an enterprise plan. Depending on your budget and user needs, Quick Base is a more expensive option. Their Premier plan is $500 a month paid annually or $600 a month paid month-to-month. It includes 50 apps, integrations, and mobile access. 
Their Platform plan begins at $1,600 a month billed annually or $1920 a month billed month-to-month. It includes upgraded features such as audit logs and service level agreements.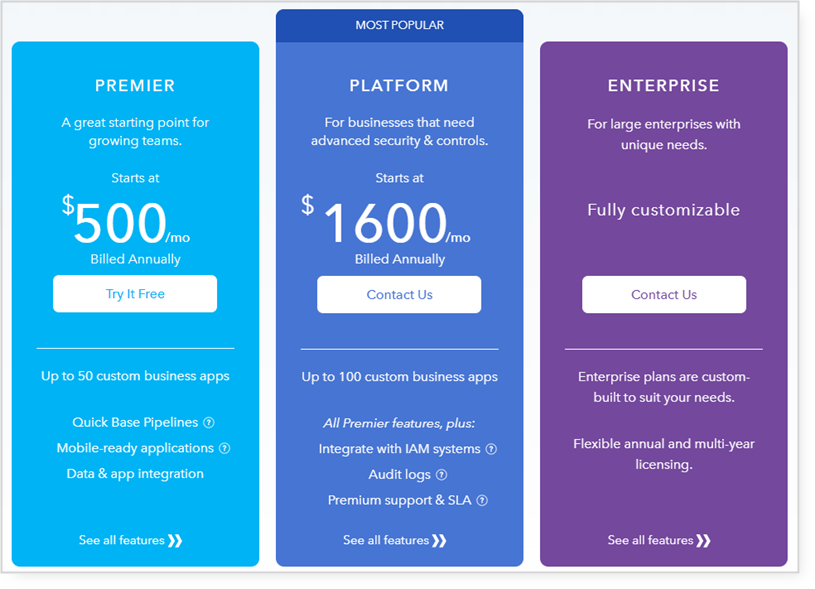 Support
Both
Airtable support is available by chat or dedicated support on the Enterprise plan. Airtable replies within 1-2 days or quicker with priority support. Quick Base support is available by creating a support case in case management.
User Reviews
Airtable
 Airtable has a rating of 4.6 out of 5 on G2. 

Frequent positive reviews state Airtable is excellent for project management, has much more for advanced functionality than a spreadsheet, and is flexible for any type of business need.

Kobe O., Marketing Specialist, appreciates the ability to use templates or customize to exactly what he needs, "Airtable offers the best configuration features I have ever used to customize spreadsheets in many formats. It has also built fantastic models to support users to quickly start working on it. Also, you have the free time to personalize the model precisely for what you need if you do not want to use a template." 

Christopher W., Social Media Manager, keeps his data and projects organized, "The thing I love most about Airtable is its versatility. It can be used for so many things—to-do lists, organizing projects, etc. It's pretty intuitive, so you can get on board with basic functionality relatively quickly. Airtable helps me keep lots of different data about our content organized, sortable, filterable, etc. I am able to store content schedules, media, analytics, etc."
Negative reviews requested more onboarding tips and support and a side view layout of the tables in a base.
Quick Base
Quick Base has a rating of 4.4 out of 5 on G2.

Several positive reviews stated the ease-of-use when creating custom reports, the ability to use it for multiple teams and across the entire company, and how proficient it is for project management. 

Kim G., Project Planning and Control Analyst at an enterprise company, enjoys the easy access to data for multiple collaborators, "We are able to collaborate across departments, locations, and even with external people. It gives us measurable goals and allows us to rely on documented information, rather than having information stored in someone's brain or on their hard drive, which is inaccessible to others. I'm also very impressed with their customer support."

An Administrator in the Publishing industry, has high confidence in the platform and uses it for all aspects in the company, "My company has been using Quick Base for years now to grow and expand our multiple businesses. It is perfect for our flexible and fast paced business model. We can build new apps and get new projects up and running very quickly. It's the best solution out there for us and we plan on staying and growing with Quick Base for the foreseeable future."
Negative reviews included the initial setup time to create apps and the need for a better search function.
How to Migrate from Quick Base to Airtable
If you are ready to make the move and migrate from Quick Base to Airtable, it only takes a few steps. 
Airtable has 2 import options for new data: CSV imports and table-style copy and paste imports. 
Quick Base gives you the option to export each App table as a CSV file, Tab-delimited file, or XML. The best way to migrate your data into Airtable is to export each Quick Base table as a CSV.
First, open a table in your app. Click More > Import/Export in the top right corner.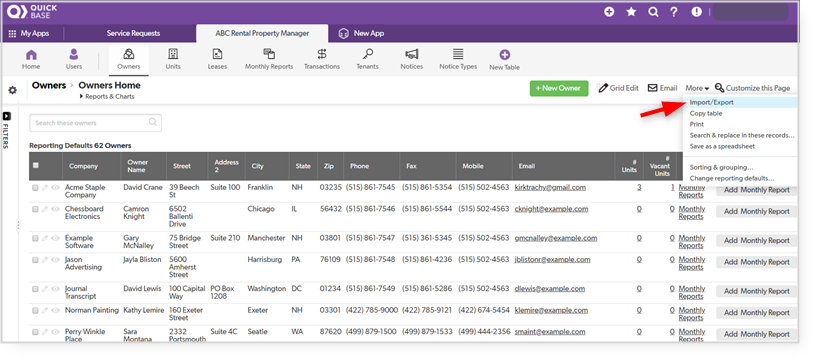 On the Import/Export page, choose Export a table to a file as the Action, select your Table, and set your format to Comma-Separated Values.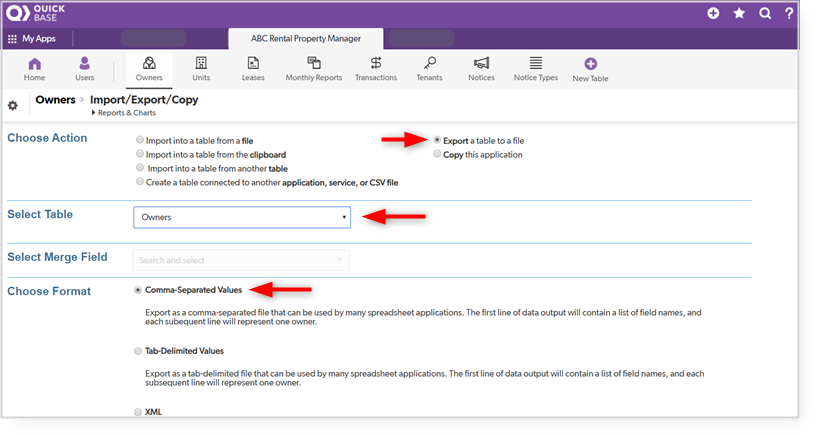 Click Export to File.
Quick Base will export your table as a CSV. It will not export your file attachments. You will need to manually download the attachments. 
To do this, go to your App Home page. Click on the Settings gear icon on the top left.

Click App Management > Manage file attachments.


Choose each table containing attachments. If you only have a few, you can click each one.


If you have many attachments, several members in the Quick Base community forum suggested using the Firefox extension, DownThemAll, to download them all at once. However, this is not an officially supported Quick Base tool so use at your own risk.
In Airtable, click Add a base >  Import a spreadsheet.

For your first table, you will select Import a spreadsheet > Choose a .CSV file.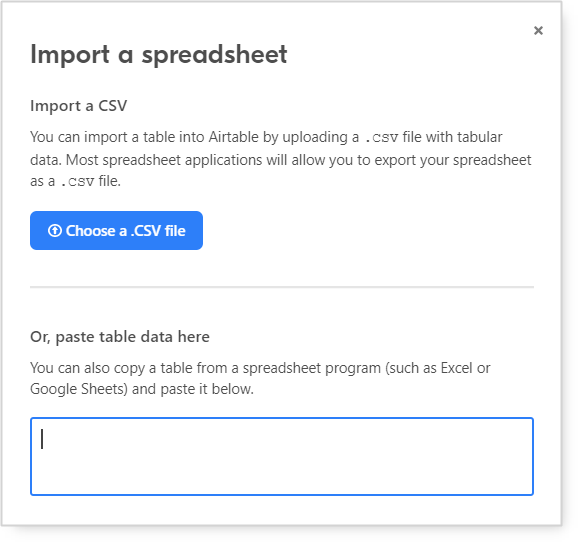 For the remaining table CSV files, you need to copy and paste your data.
Copy each of your CSV file's data independently.
For each file, open your current base and click the plus icon next to your current table. Then click Create empty table.


Next, click in the first top-left cell and paste your data.
You can then change the Column Types to fit your specific data needs, whether it's a text field, multiple select, or number. You can also add your file attachments to their corresponding records. 
It won't be perfect at first and will take some data adjustments. (No software transition is completely seamless!) However, once you begin using Airtable, you will quickly see just how simple and awesome it is!
Additional Airtable Resources and Tools
BuiltOnAir is your resource for all things Airtable. We have a directory of the best Airtable Product Extensions and Tools, Communities, Consultants and Service Providers. If you want to read about specific industries using Airtable, check out our Ultimate Airtable Industry Guides. We also have a podcast featuring Airtable users from a variety of industries and companies.
If you want to stay up to date on all things Airtable, subscribe to the BuiltOnAir newsletter for a weekly update of all things Airtable and community-related. We never send promotions (other than the occasional note from our sponsor, Openside), and do our best to curate the most relevant content in the Airtable space.
On2Air | Openside
BuiltOnAir is proud to be sponsored by Openside, a talented consulting and development company that has built advanced integration and workflow tools for Airtable. 
As the only provider of premium products and services for Airtable, Openside not only builds Airtable integration tools but supports them with a unique array of services and solutions for companies. 
Two of the best tools for Airtable business professionals are: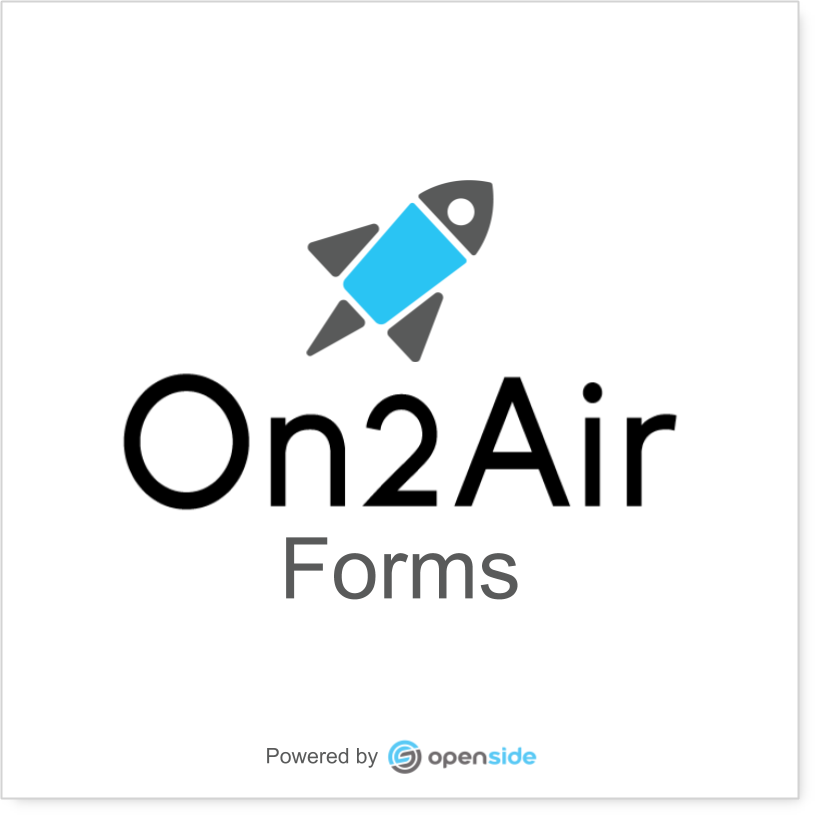 On2Air Forms combines JotForm's robust form-building capabilities to pull Airtable data into your forms and then push form responses back to Airtable.
Key features:
Pull any data from your Airtable databases into forms
Search within databases for form options
Auto-populate forms from pre-existing data
View names or filters from Airtable in your forms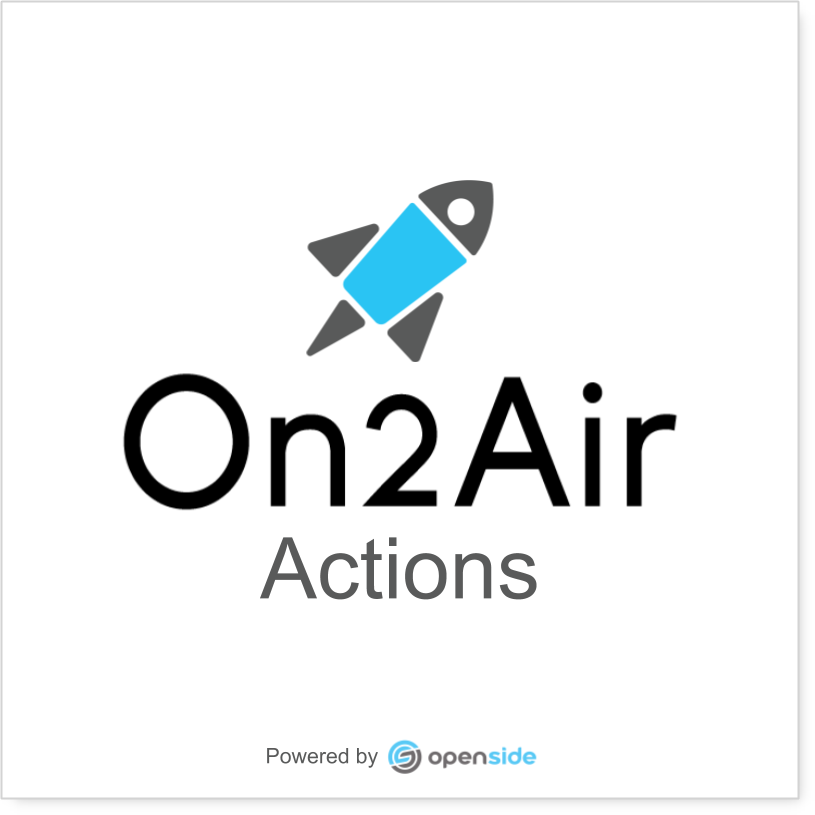 An advanced integration and automation tool perfect for workflows. With this tool, you can:
1) Integrate Airtable with a large variety of apps used in your workflows and reduce manual work 
2) Gain access to advanced options (not possible with other Airtable connectors on the market) to make everything more simple and powerful
Key features of the On2Air: Actions tool:
Trigger changes to your bases from a large variety of choices
Update or delete fields and records according to desired criteria
Find or create records according to ID, views, or other options
Pull data from external systems into your Airtable schema automatically
Summary
When choosing an information management software, Airtable and Quick Base are both helpful tools for creating a cohesive and collaborative company platform. 
Each has a variety of features to use, depending on your unique requirements and services. If you want a solution that is easier to set up and has a more modern interface, Airtable is the tool for you. If you want a platform with more enterprise features and you have the budget, Quick Base is the solution for you. 
At BuiltOnAir, we are advanced Airtable users and businesses and have seen how versatile it can be for anyone. It's an innovative online, relational database but practical enough to be extended throughout your entire company. We recommend Airtable as an easy-to-use solution for customizing your business needs.
(1) https://go.forrester.com/blogs/why-you-need-to-know-about-low-code-even-if-youre-not-responsible-for-software-delivery/