Introduction to Airtable and Non-Profits
As a nonprofit, your world consists of providing support to those in need in our communities and world. From donor management software to grant requests to planning a fundraising event, nonprofits need a variety of solutions to achieve their mission and goals. Airtable provides nonprofits with an all-in-one collaborative solution for managing your most important organizational data and being a positive force for good.
This Ultimate Guide to Airtable for Nonprofits contains a variety of resources to help you get the most out of Airtable. This guide will provide you with templates specifically made for nonprofits, use-case examples, extra tools to upgrade your bases, and additional resources to expand your Airtable knowledge. This guide is organized by section so feel free to use the Table of Contents to navigate to each section as needed.
What is Airtable? What does it have to do with non-profit organizations?
Airtable is an all-in-one online database app you can easily customize to manage all your nonprofit operational needs. Because of its simplistic user interface and extensive features, it has become a leader in all-in-one software used by companies, organizations, and individuals. If you've ever used a spreadsheet, you can use Airtable! 
Nonprofits typically have multiple pieces of software to coordinate various department needs. Airtable's flexibility and customization gives you the option to consolidate your information into one central location. Instead of paying for multiple software solutions, you can use Airtable as a central repository of your agency's data.
If you do need to connect to other software platforms, Airtable's usability can be extended to over 1,500 other software tools using automation software such as Zapier. 
With Airtable, you can create your own custom databases using the simplicity of drag and drop blocks. Airtable fields include options such as Text, Numbers, Currency, Checkboxes, Formulas, and so many more. You don't need to know any special coding or programming; you just need to point and click.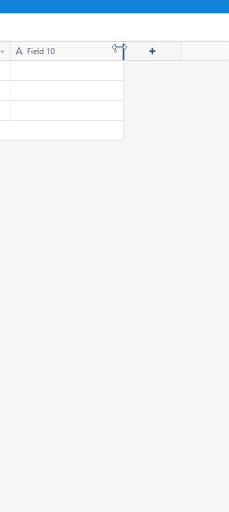 Extra Bonus for Nonprofits: Registered 501(c)(3) organizations can apply to receive a 50% discount off their Plus and Pro plans. This makes it even easier to say yes to this dynamic software. See all the details about the nonprofit discount on their website.
For a thorough overview of Airtable, read this in-depth guide.
How do you use Airtable for nonprofits?
Airtable can take your data from a separated and unorganized challenge to a structured, easy to find, knowledgebase of your nonprofit's information. Incorporate your donor fundraising, event planning, program management, grants management, volunteer management, media tracking, and editorial calendar all into Airtable. 
The possibilities for what Airtable can do for your organization are almost limitless. If you have any other information you need to organize or coordinate, Airtable can be customized to fit your needs.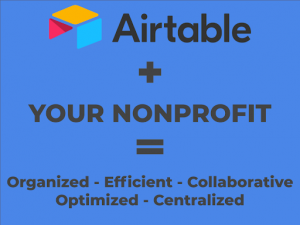 Using a spreadsheet or an older database program like MS Access to keep track of data can be cumbersome and frustrating. Airtable offers nonprofits a simple yet powerful alternative to scattered and dated software. Its price point creates a low barrier of entry for even the smallest nonprofit. If you are a larger nonprofit, Airtable provides enterprise scaling and will help you with your nonprofit's specific requirements with white-glove service and a dedicated customer success manager.
Airtable is a creative, mobile, and collaborative extension of your nonprofit's mission. You can add multiple users, create specific views with filters to see only what you need, and access your data in any environment. 
In addition, it's mobile-friendly and easy to use anywhere. If you have fundraisers or program staff in the field, they can easily add or update key pieces of information on the go. This creates data that is up-to-date at all times.
Best Features – Relational Connections Between Data
One of Airtable's most powerful features is the option to create a myriad of relational databases. Relational databases are what make it such a dynamic and modern answer for your nonprofit. Relational means each point of data can be connected to any other point of data creating a circular reference. 
This can be immensely beneficial for any and all data. For example, your donor management system needs to link donors with their donations. With Airtable, you can have one table with your donor information, a second table with donations, and then link them with a related field. Each donation is tied to each donor and vice versa.

This can be used across any database you create. Your data doesn't need to be only seen in one location. Use Airtable's relational power to connect all the information your nonprofit needs.
If your organization is a rescue shelter for dogs and you have a program where your donors can financially 'adopt' dogs, you can create a custom field for the dog's name. Now, you will always have a historical record related to the donor and the dog they supported. 
This can also be extended into Membership giving clubs. Maybe your Membership Club is called the 'Happy Dogs Club' and its purpose is to adopt out dogs. Create another table in your base listing your Membership club options then create a relational field to your Donor table.

Best Features – Blocks (Includes Examples for Your Nonprofit)
Airtable Blocks create enhancements to your workflow, databases, and records. Visualize and optimize your data with blocks such as SMS texting, maps, video chat, calendars, charts, and more. See all the available blocks in Airtable here.
One use is the SMS Block in your donor management system. With the SMS Block, you can connect with your constituents or donors via text messages. You can text them to confirm donations, thank them, or send monthly giving reminders.
The Email Block is another way you can work directly in Airtable to accomplish your communication needs with donors. With the Email Block, you can email a donor directly from Airtable! This is useful for sending reminders and documents.
You can also use the Page Designer Block. With the Page Designer Block, you can create a variety of documents. One of the more important documents is a thank you letter. With Airtable's merge field options, you are able to first create a template letter and then simply add the relevant fields such as the donor's name, address, and donation amount. 
Donor Giving Reports are another great way to use the Page Designer block. Simply merge and send the reports at the beginning of each year for tax purposes. The Page Designer block offers so many options to use your data to connect with your donors.
The Best Nonprofit Use-Case Examples for Airtable
Using Airtable as a Donor Database
As a nonprofit organization, your donors are one of the most important indicators of long-term success. Donors provide vital funds to keep your organization operating. A donor management system is essential to keeping track of individuals, companies, and foundations who donate funds, gifts-in-kind, or time. With Airtable, you no longer have to rely on Excel or spreadsheets. You can create a donor database in Airtable to fit your exact needs.
Generally, the basic information needed for a donor database is Contact Information, Gift History, Interactions, and Notes. With Airtable, you start with the basics and then create a system specifically for your type of nonprofit with custom fields. One of the neatest things about Airtable is the ability to use a template to begin your setup and then adapt it to your specific needs.
Here are some templates of Donor Management System databases to get you started: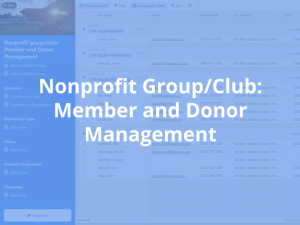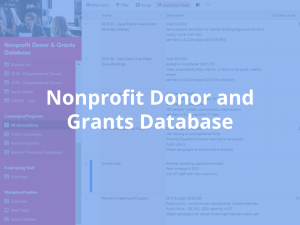 Take a look at Do Better Consulting's Donor and Grants Database 
Nonprofit Donor & Grants Database
The database includes tables such as Donors, Donations, Campaigns, Fundraising Staff, and a Pipeline.
Grants Management Database in Airtable
Foundation grant funds are another source of income to support your mission. In 2018, foundations gave over $75 billion to nonprofits (*). Keeping track of your grant requests with Airtable makes the process more seamless.
You can create date-based tasks related to each grant request to keep you on schedule. A calendar view in Airtable will give you an overall picture of upcoming due dates and your task timeline. This includes adding dates for follow-up and final reports. 
In each specific foundation record, you can use the Attachments field to add grant documents such as the actual request document and all related financials including budgets, audits, and income statements.
If you have multiple team members who work on grants, you can add them as a collaborator in the database. If your finance department needs to add budget information to the request, you can tag them to notify them it's now their turn to complete a specific task.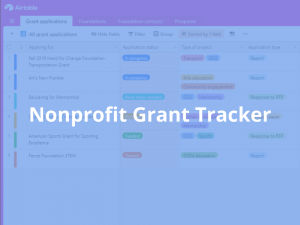 This template is a grant tracker from Airtable. It contains tables for Grant applications, Foundations, Contacts and Programs. Fields include status, project, due date, and more.
Editorial Calendar in Airtable
Marketing the important work your agency does each day is an important part of branding. You have to let others know about your cause in order to increase donations!
This includes:
Press releases

General news stories

Blog articles

Social media content

Email newsletters

Direct mailers
Airtable is an excellent solution to organize all your marketing and communication content. Use an editorial calendar to plan out your posting schedule. In Airtable, you can add images, videos, and a story narrative. You can create your posting dates and plan your social media content months ahead. 
With a Zapier integration, you can also connect Airtable to your social media accounts to post directly to Twitter, Facebook, Instagram, or any other account. You can also manage dates, documents, URLs, and media contact information in your base.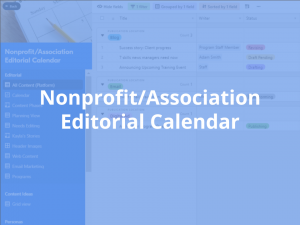 Nonprofit/Association Editorial Calendar
Karen Hansen's Editorial Calendar Airtable base is specifically tailored to nonprofits for editorial purposes. It will help you communicate more effectively with donors and media.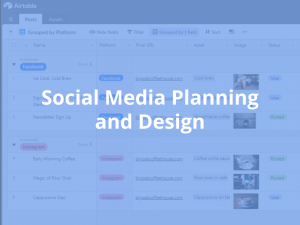 Fundraising Event Planning in Airtable
In your fundraising efforts, events to raise money for your organization are inevitable. Airtable's custom fields make it an excellent tool for event planning. When you have multiple individuals at your organization planning the event, you can each be a user in Airtable and coordinate effortlessly. When it comes to organizing fundraising events, where stress levels are already running high, it helps to have the best tools to simplify the process.
For fundraising events, several Tables in Airtable might include Sponsors, Event Attendees, Vendors, Schedule, and Budget.
For each Sponsor, you can create fields such as the date you contacted the Sponsor, the main contact person at the company, the amount you requested from them, the current sponsorship status, and their sponsor level once they commit. With the Page Designer Block, you can create name badges or place settings using Event Attendee merged data.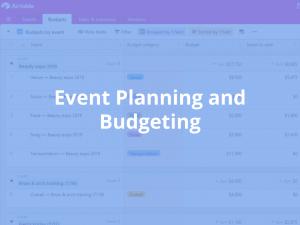 This event planning template from Airtable is a great starting place for events. It includes tables for Budgets, Tasks, and Vendors.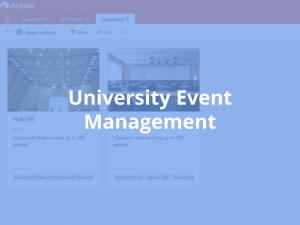 University Event Planning template.
This includes a Table for multiple events. In Airtable, you could track all your fundraising events in one table or divide them up into multiple bases. This one includes a form for RSVPs and also a Table for Locations.
Auctions at Fundraising Events
Many nonprofit fundraising events have live and silent auctions to increase funds raised. Don't cause more stress by trying to add all your auction items to a complicated spreadsheet. 
You can use Airtable as an auction item database. Use fields such as Minimum Bid, Bid Increments, Actual Value, and Auction Item Donor. Airtable's Grouping option gives you the ability to group auction items by categories such as Gift Certificates, Items, and Live or Silent.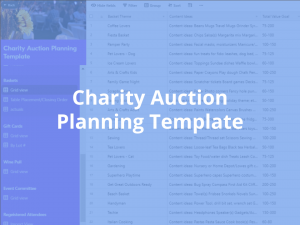 Charity Auction Planning Template
This auction template has multiple Tables set up to help you plan your auction. Attendees, Volunteers, Budgets, Committee and more.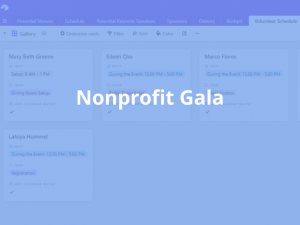 This comprehensive template will make sure your gala creates a night of dazzle for all your attendees and donors. It includes a Schedule, Speakers, Volunteer, Budget, and more.
Volunteer Management and Organizer in Airtable
Volunteers can be vital to an organization. When someone contributes their time to help you, more funds can be directed to the greater cause. Keep track of the important work your volunteers do and don't let them go unnoticed. An Airtable Volunteer Base allows you to track volunteer hours and contact data.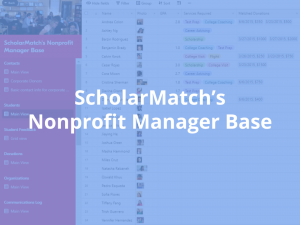 ScholarMatch's Nonprofit Manager Base
This database by ScholarMatch, a nonprofit helping underprivileged students by crowdfunding college scholarships. They started using Airtable to solve one challenge and realized quickly they could use it to integrate multiple programs. They now use it for students, donors, donations, program schedules and attendance, volunteers, alumni, press mentions, and more.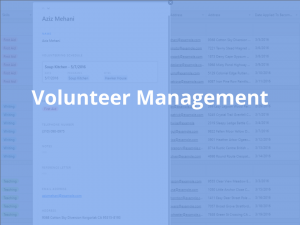 Track your volunteers' skills, references, and contact data in this volunteer management database. This table includes a way to create schedules and link your volunteers to the program where they give their time.
Non-profit Examples from Experts on the Built on Air Podcast
Here at BuiltOnAir, we run a weekly podcast that focuses on Airtable users from around the world and how they are using the all-powerful tool. We've had the opportunity to speak with some incredible guests and see some truly inspiring ways to use Airtable.
We've gathered a few episodes that fit in well with the Nonprofit industry. Watch or listen to gain some insight into how other professionals are using Airtable in relevant ways.
Mac McGowen

– MercyShips, a nonprofit providing free surgeries and medical care to patients in Africa and other places around the globe, uses Airtable to improve collaboration.

Anton Preisinger

– Founder and director of Northwest Hospitality, a non-profit focused on simple needs outreach for the homeless, Anton created an Airtable database specifically catered to his nonprofit.
Airtable Bases and Templates for the Non-profit Industry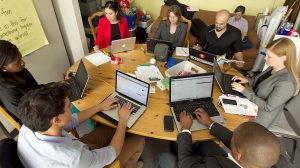 Campaign Volunteer/Supporter Management Database
A lightweight database to track your volunteers and their volunteer shifts.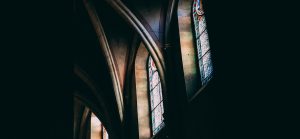 Church Member Management System
Use as your own small church management system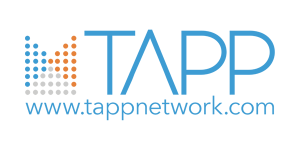 Nonprofit Email Planning
Easily manage your email campaigns. Keep track of emails, content, monthly reports, and campaigns.
The Top Video & Written Tutorials for Using Airtable for Non-profits
Currently, there are not many articles and video tutorials specifically centered around using Airtable for nonprofits. We rounded up a few articles and videos specifically for nonprofits and several others you can use to optimize your databases.
5 Ways Nonprofits Get Organized With Airtable | Airtable
The principles in this video outline how nonprofits can best use Airtable.
BuiltOnAir S02:E11 – Anton Preisinger, Non-Profit Founder | BuiltOnAir
Anton is a nonprofit founder who uses Airtable each day to operate his organization.
How Wikitongues uses Airtable – Part 1 and Part 2  
These articles provide an in-depth look at how Wikitongues uses Airtable's linked tables, filters, view, and hidden fields. They also incorporate advanced fields such as roll-ups and formulas to better understand their data.
Exploring the Page Designer Block in Airtable | Gareth Pronovost
Follow Gareth's tutorial to create templated pages from your data.
Date Formulas: The 3 Most Common Date Formulas of Airtable | Gareth Pronovost
Explore date formulas in Airtable. This is especially useful for viewing timelines for your tasks
Switching from spreadsheets to Airtable | Airtable
If you've been using spreadsheets to manage your data, learn the key correlations for fields in spreadsheets and fields in Airtable in this Airtable webinar.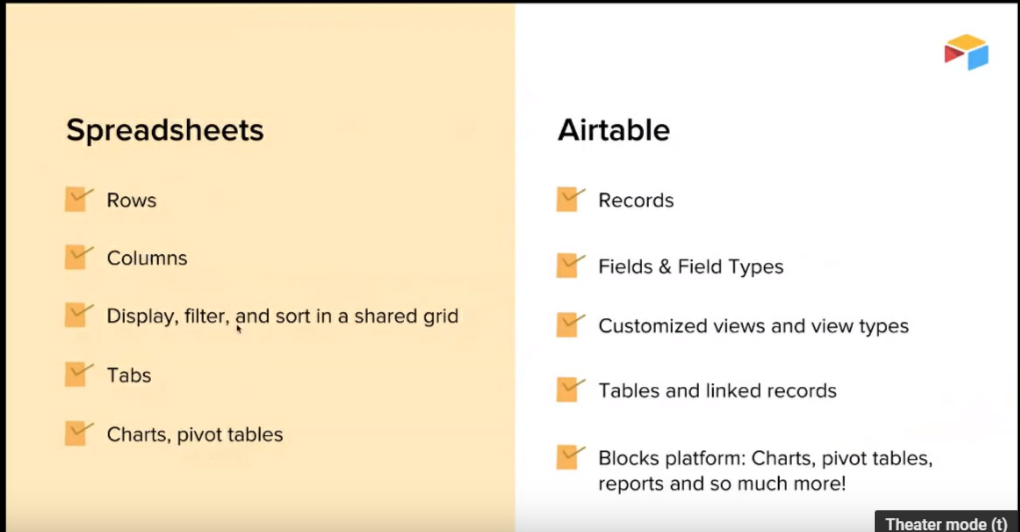 Guide to Airtable | Airtable
If you're brand new to Airtable itself, this is the place to start. This getting started guide (published by the Airtable company) walks you through an overview of functionality, then the starting points for creating a database, setting up field types, adding records, linking between tables, using Airtable as a collaboration tool, filtering and sorting, and finally how to publish views of your database.
There is also an advanced tips and tricks section with links to keyboard shortcuts, a list of integrations, and the Airtable API. To go beyond the basics in the Guide to Airtable, use the tools and resources listed here in the Ultimate Guide to Airtable.
The Airtable power user's guide | Airtable

This guide is exactly what it sounds like; a guide published by the Airtable team targeted at power-users. Once you've gone through the introductory guide and as you're putting together your sales and marketing database schema, chances are you'll want to dip into this guide occasionally to get additional insights on all the capability available to you during the process.
Finding the Right Tools to Use with Airtable + Non-Profit
Once you begin to use Airtable, you will find more ways your nonprofit can use it in all applications. While Airtable is a premier service to support your nonprofit and mission, it does have a few shortcomings and needs improvement in several areas. Fortunately, there are third-party apps and vendors who have created integrations to improve Airtable's features.
As part of our work at BuiltOnAir, we scour the web to find projects and tools built by freelancers and companies designed specifically for Airtable. We've built a library of these things in our Airtable Resources Library. 
This ultimate guide for nonprofits will continue to improve as we find tools relevant to the nonprofit industry. 
Everything on the list is designed to increase Airtable's features either within Airtable itself or when integrating with the other apps used in your workflows. 
Here's the curated list of tools and consultants for Airtable and Nonprofits:
We're proud to be sponsored by Openside, a talented consulting and development company that has built advanced integration and workflow tools for Airtable. 
As the only provider of premium products and services for Airtable, Openside not only builds Airtable integration tools but supports them with a unique array of services and solutions for the nonprofit industry. 
Two of the best tools for Airtable and Nonprofits are: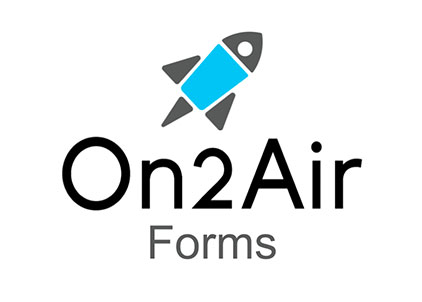 On2Air Forms combines JotForm's robust form-building capabilities to pull Airtable data into your forms and then push form responses back to Airtable.
Key features:
Pull any data from your Airtable databases into forms

Search within databases for form options

Auto-populate forms from pre-existing data

View names or filters from Airtable in your forms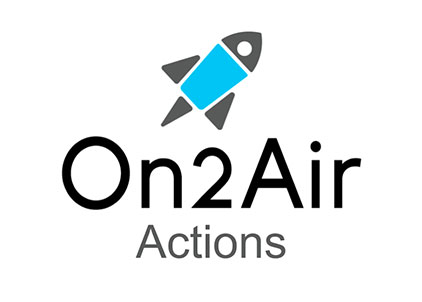 This is an advanced integration and automation tool perfect for your nonprofit workflows. With this tool, you can:
1) Integrate Airtable with a large variety of apps used in your workflows and reduce manual work 
2) Gain access to advanced options (not possible with other Airtable connectors on the market) to make everything more simple and powerful
Key features:
Trigger changes to your bases from a large variety of choices

Update or delete fields and records according to desired criteria

Find or create records according to ID, views, or other options

Pull data from external systems into your Airtable schema automatically
Stacker is a user portal that supports logins, unique data access based on login, a sleek interface, and internal edit views
Finding the Right Service Providers to Help Your Non-Profit Organization Thrive with Airtable
This section of our guide is all about fellow Airtable admirers that have turned their passion into careers.  Are you ready to fully integrate Airtable into your workflows? You are not alone, below are a few excellent service providers to help give you that extra support needed to integrate Airtable into your Non-Profit work.
You can find our full list of service providers in our Resource Library. We are always on the lookout for great providers and update our library once we find them. 

Openside provides premium solutions for Airtable including custom database design, dashboard/block creation, training & documentation, managed backups, custom automations, monitoring, metrics tracking, and reporting. 
Openside also provides a suite of products built to power-up your Airtable databases.
Here are some links to learn more about Openside and how they can help you:
A case study on a VA loan company – the story of a Hawaii-based company using Openside's services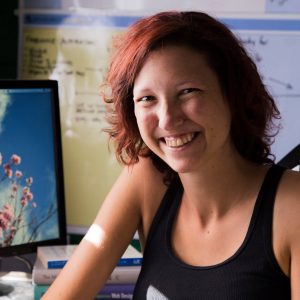 Magdalena empowers nonprofits and entrepreneurs by creating digital user experiences. Her specialties include designing and developing products, processes, and data. Melanie was featured on our BuiltOnAir podcast and nonprofits are one of her favorite industries to help.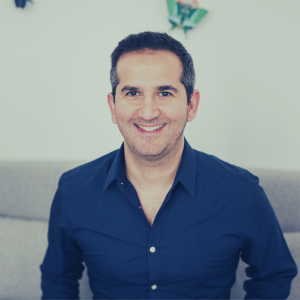 Noam provides entrepreneurs and start-ups build the tools they need to manage, automate and scale their business operations fast using Airtable and Zapier. He also gives nonprofits a 20% discount on his services.
Most Helpful Airtable-focused Communities and Threads for Non-Profits
Aside from hiring a consultant or service provider and finding the right tools to advance your data, sometimes you need some genuine advice or answers to questions.
Finding the right community and relevant threads are essential to learning advanced tips and tricks and understanding the best ways to create your database. Chances are, while you're creating databases for your nonprofit, you will have questions about specific setups or best practices. 
The BuiltOnAir community (and the other communities listed below) are designed for this exact purpose. 
Consider the following a curated list of relevant Airtable and Nonprofit topics and threads to give you a starting place. Questions are being asked, shared, and answered every day. If you are struggling with an issue related to Airtable or your setup, post your needs in one of the communities. Most community members are happy to help!

You're here! You found this Ultimate Guide to Airtable for Nonprofits and we are glad you did! 
BuiltOnAir is the ultimate resource for all things Airtable. Not only do we have more resources about Airtable than others, we're always looking for more great articles, videos, products, and consultants to add to our extensive Airtable Resources.
If you want to stay up to date on all things Airtable, subscribe to the BuiltOnAir newsletter for a weekly update of all things Airtable and community-related. Don't worry, we never send promotions (other than the occasional note from our sponsor, Openside), and do our best to curate the most relevant content in the Airtable space.
BuiltOnAir Slack Community
We host a Slack channel as a private place for discussions with fellow Airtable fans. Our goal is to provide a place for experts and beginners alike to talk openly, ask questions, and share their best Airtable tips. Building common connections, getting insider secrets, and having fun are key priorities of the BuiltOnAir Slack community.
We invite BuiltOnAir podcast guests (like the experts listed in the Examples section above) and other professionals (including the nonprofit industry) to the chat to discuss their bases and answer questions. We also host a channel specifically for questions and discussion around the projects section of our Airtable resources directory.
Join the entire BuiltOnAir Community here.

This is an active community for Airtable users, hosted by Airtable. The Airtable Community has a variety of categories for interactions, including Integrations, Ask the Community, Feature Requests, Work Offered, and more. 
It's a great place for getting answers from a core group of unofficial Airtable experts (unofficial meaning they aren't directly hired by Airtable).
It's not uncommon to have even the most complicated formulas solved, database ideas put into reality and showcased, or lively discussions about product changes the community would like to see.
Some relevant threads using Airtable and nonprofits to get you started:
Want more? You can use the search box to find additional threads on your keywords of choice
Where to go from here
With this Ultimate Guide to Airtable for Nonprofits, you now have a definitive source for all things Airtable. Your nonprofit can have a centralized location for all your data.
With Airtable, you no longer need to keep spreadsheets spread out over multiple folders anymore. Airtable's extensive ability to customize databases offer nonprofits a way to contain all data in one workspace.
Stay Updated
To stay updated on future developments, we highly recommend you subscribe to BuiltOnAir via YouTube, podcast, or email by clicking here and choosing your best option (or all of them!). We share all the latest happenings in the Airtable space each week via email, including community threads, new projects, and updates from the podcast. 
As we shared above, we will never spam your email and never do promotions aside from the occasional note from our sponsor, Openside (which is the best way to amp up your Airtable anyway!).
Our goal is to give you the best tools and resources you need to amplify the vital work you do in your community and beyond at your nonprofit organization.
Want to see more Airtable Guides for other industries?! Check out our full list of Airtable Guides for Real Estate, Sales and Marketing, E-Commerce, and many more